Comment: April 2021
1 April 2021
UK's post-Brexit property market, a haven for international investors
As we move forward through the year, I wanted to let you know what is happening in the London property market.
The positive rollout of the Covid-19 vaccine across the UK, together with the end of uncertainty around a no deal Brexit, bodes well for the economic recovery we are all pinning our hopes on. The FTSE 100 rose to a 10-month high in the first week of January, which should mean the housing recession caused by the pandemic will become a thing of the past and 2021 will allow the market to regain its long-term growth prospects.
Whilst prices are likely to be static throughout the coming year, prime central London properties continue to represent good value for money particularly for Middle Eastern buyers.  A further encouragement until the beginning of July is the stamp duty relief which may trigger a rise in foreign based buyers. International buyers, who hopefully will soon be able to travel to the UK, will be able to take advantage of the long-term profit potential offered by the post Brexit London property market.
Despite our third lockdown, London remains one of the most popular cities to live in the world and once the housing market gets back on track prices will rise.  Hamptons suggests we might see a rise of 6.5% over the next four years. Sales and rental prices may be down in the capital's most exclusive postcodes, but there is no doubt that activity is returning.


Hong Kong influx
As the property market rebounds from Covid-19, London's prime residential sectors are proving an attractive option for many Hong Kong citizens, keen to relocate to the UK. This may help to boost the capital's luxury residential market.
In January, this year the UK government launched a special visa for around three million people in Hong Kong, with the offer of permanent citizenship after five years.
Because of its history of resilience and growth, London property has long been one of the most popular investments for buyers across the Far East and the situation in Hong Kong could trigger more investment. Average property prices in the UK have increased by 300% over the last 20 years alone.


Working from home
A survey of 1,000 firms by the Institute of Directors shows 74 per cent will continue with some form of working from home in 2021. Not only that but according to John Lewis, open-plan living is going out of fashion as buyers and renters try to segregate work areas from leisure.  
Kinleigh Folkard & Hayward's London Tenant Barometer - shown below - indicates whilst affordability was the main concern other factors such as private outside space, any commute to work and having space to work at home have all become much more important over the last 12 months.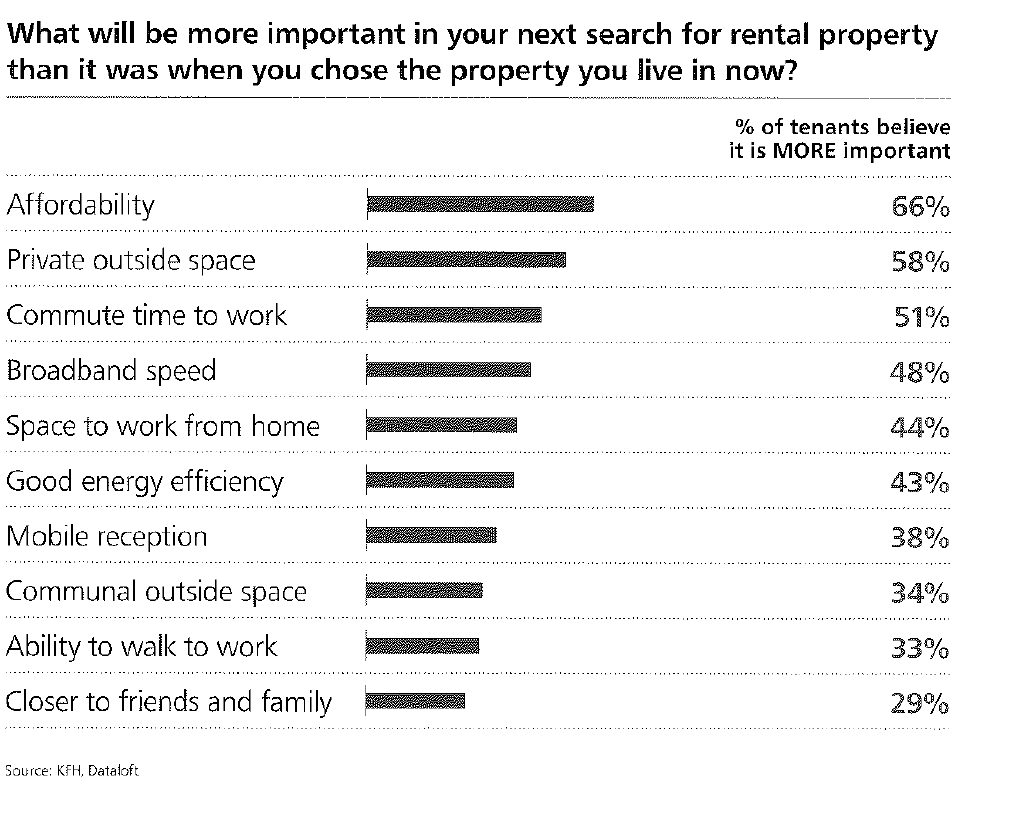 London's luxury housing market in numbers:
2 months+ the average time homes in the most expensive areas of the capital are sitting empty.
75% the rise in in luxury pads in central London now available for rent as office workers and global visitors shun the capital.
14% the slide in central London rents over the past 12 months
6% the reduction in overall transactions during 2020 v 2019
3 we're currently in the third UK lockdown
5% the of central London renters negotiating rates with landlords
19% the rise in new lets in Q4 2020 versus Q3